Credit Card

Apply Now 2.99% Balance Transfer
Winnebago Community Credit Union Visa® Platinum
Credit Card - Rates as low as 9.9% APR*
The right card for you!
The most important feature of a credit card is a low, affordable interest rate and we make your choice a simple one. The Winnebago Community Credit Union Visa® Platinum credit card has a great low rate and real benefits you need!
Apply today and receive:
Low Rates Save You Money!
NO Annual Fee
NO Balance Transfer Fees
NO Minimum Finance Charges
Fraud Protection Against Unauthorized Usage
Please contact Visa immediately to report your card lost or stolen at 1.866.604.0381. For unauthorized transactions please call 1.800.600.5249.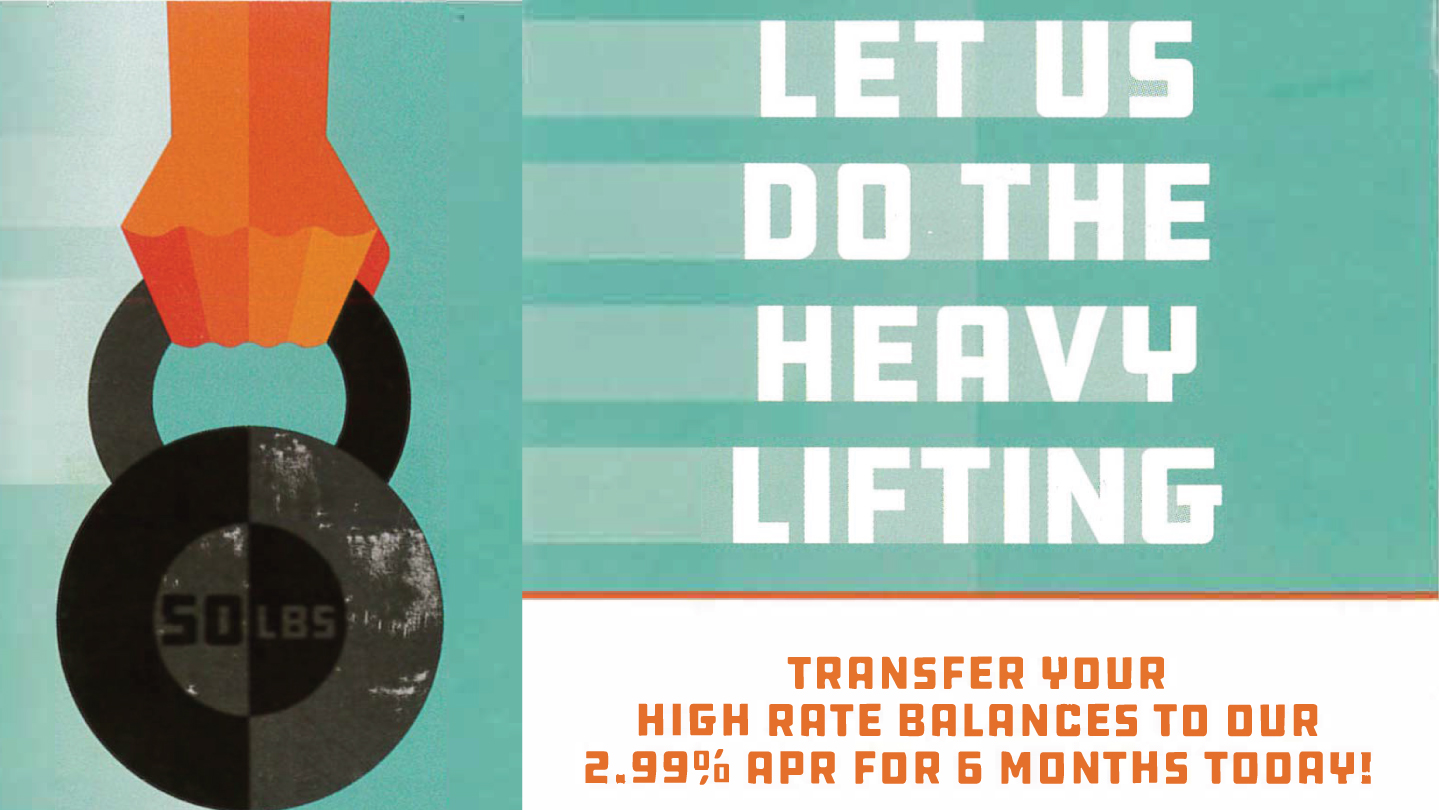 2.99% Balance Transfer

Apply Now
Stop paying all that interest on your credit cards! Start over with a WCCU Visa® Platinum Credit Card offering a low-rate balance transfer option. You'll receive a special 2.99% APR introductory annual percentage rate for 6 months when you transfer your other cards over.
Introductory 2.99% APR for 6 months
No Annual Fees
Free Balance Transfer
Low Balance Transfer Rate
Low Regular Rate
No Minimum Finance Fee
Think of how much money you're going to save! Start now by consolidating other high-interest debt. Please call 920.233.9096 or email a credit union representative to get started immediately.
| | | |
| --- | --- | --- |
| | WCCU VISA | Other Credit Cards |
| Current Credit Card Balance | $5000 | $5000 |
| Credit Card's Interest Rate | 2.99% | 20.99%* |
| Average Monthly Payment | $50 | $50 |
| Time Period | 6 months | 6 months |
| Total Interest Charges | $73.34 | $534.81 |
2.99% Annual Percentage Rate (APR) for the first 6 billing cycles on balance transfer, after 6 billing cycles card balances will revert to the standard card rate. Additional limitations, terms and conditions may apply. Availability of offer based on creditworthiness.
*This information reflects an industry average of competing credit card offers' standard rates and fees.
Credit Card Access with eZCard
eZCard is instant access to your WCCU Credit Card inside WCCU's Online Banking or Mobile App!
Whether you're making a payment on the road, checking transactions in a waiting room, or monitoring your balance on vacation, eZCard is there for you 24/7 inside Winnebago Community Credit Union Online Banking.
Access everything you need, right when you need it:
View account balances and check available credit
Pay bills online
Receive alerts of conditions or events affecting your account
Search transactions by name, amount or date
In today's fast-paced world, instant access is critical and our intuitive online tools are available to you now to help keep pace with the demands of your life.

Enroll in Online Branch to get eZCard access today! Or access eZCard by clicking this link. To enroll in eZCard- WCCU cardholders, look for the credit card tab on the top navigation bar inside our online branch, then click to enroll!
Message Alerts
Keeping your account safe and secure is our highest priority. EZCard allows you to receive various text and/or email message alert notifications and view your transactions. Enroll by setting up a profile at EZCard Access.