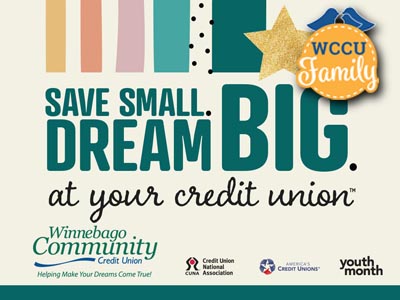 start small. Dream BIG. During Youth Month
Apr 4, 2022, 20:04 PM by Dana Racine
April is National Credit Union Youth Month, an important month in the credit union industry. Celebrating our members every day is important, but in April our kids get the spotlight.
You might already know the advantages of banking with a credit union in comparison to a big financial. Credit unions are member-owned, not-for-profit cooperatives that have a common mission – to help their members make or save money. The "People helping people" philosophy is why credit unions offer lower interest rates on their loan products, higher interest on checking and savings products, and better service.
Why does WCCU focus so much on kids? Because we all know creating good behaviors and habits can begin at a young age, like brushing your teeth daily. Financial literacy, including valuable savings habits, starts when you develop a positive partnership with your financial. There is no better place to learn the crucial facts about financial wellness than at a credit union.
Who opened your first bank account? May be your parents, guardian, grandparent, might even be yourself. It was simply something already established for you or was created out of necessity. Either way, the thought behind it wasn't there until you actually needed it and was old enough to start working and actively contributing to it. Let's face it, it was just easier to keep it and add to it. Not a great way to develop a relationship with a financial but it happens. It truly is a wonderful thing if you have an institution that treats you right…not so much if you're stuck with a big financial institution that fees you to-death.
The good news is, you aren't stuck. Even if you've had your bank account for 100 years, you can still make the switch to a credit union. We offer products for members of all ages, including ones specifically developed for the needs of members aged 0-18.
Youth Savings
A WCCU Kid's account is your child's first step to credit union membership. It provides the first piece to understanding finances and the basics of saving and spending. As they grow, their account can grow with them through the high points like first jobs, vehicles, higher education and more. Plus, we help along the way with up to $30 per calendar year. They can earn incentives for making deposits, top grades on their report cards and "fishing" for birthday cash. When we say that we provide a lifetime of financial solutions to our family of members, we really do mean a lifetime.
If you are interested in helping your children learn lifelong financial skills,
open a WCCU Savings Account for them today.
Even better, if it is opened during April, we will match the initial deposit, up to $10 and they'll receive a backpack filled with Save Small, Dream BIG stuff.
Click here
to learn more! Visit WinCU.org/deposits/wccu-kids for details or call 920.233.9096.