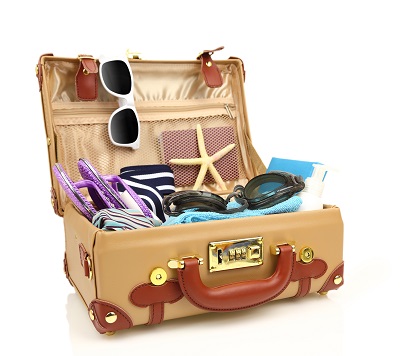 Summer Travel Savings
Aug 28, 2018, 20:04 PM by Krista Olson
Memorial Day marks the beginning of summer spending season, where it becomes more difficult to stay in our budget.
In our house, Memorial Day is the start of our summer travels. Family gatherings, weddings, vacations and day trips…a bit of everything. It also marks the beginning of summer spending season as well, where it becomes more difficult to stay in our budget.
So, I thought I would share some good money saving travel tips for you to consider traveling with my family.
Let the credit union know you are traveling. This day and age with all the fraud almost every financial has monitoring services that monitor your purchase for unusual activity. You don't want to be three states away and have you financial block your card because of unusual activity.
Make sure the car is tuned up and set for travel. Before you leave check the tire pressure and fill them up if needed. Driving on in a car with low tires really makes an impact on gas mileage. Then ask your mechanic to check on recommend maintenance . Unexpected car repairs and towing costs when you are mid trip can be very costly.
Shop Travel Sites for Hotel Deals. If your trip consists of an overnight hotel stay. Check out different websites such as Expedia, Kayak, Booking.com, Priceline, ect… before you book the hotel. These travel sites to make sure you are getting the best deal. We also try to look for hotels that offer free continental breakfast and offer an in room refrigerator and microwave to store leftovers and other snack. That way we can save some money on meals a bit, as eating out gets costly.
Use points or miles. If your credit card offers points or miles this is a great time to use them on Hotel stays, flights, ect… Also some hotel chains, such as Hiliton and Marriot offer a reward system which give you points for staying there and overtime can add up to use for a free overnight stay. Some Airlines also offer a reward program so try to fly the airlines if you can to build points.
Pack snacks and meals. If you can plan again and pack a lunch or two and some snacks along the way this will save in the long run when you make those unexpected stops because someone says "I'm hungry" from the backseat J
Plan out gas stops. When you are planning to fill up make sure you are filling up at a gas station that is cheaper and also an area that is cheaper. Some states have drastically different gas prices and it can make a pretty big difference on where you fill up if you are traveling a good distance. Check out the GasBuddy app it is awesome for planning out these stops.
Look for city tourism cards or coupon books. Some of the cards and coupon books offer discounts for restaurants, shops, transportation and attractions.
Look for free or discounted activities. If you do some research ahead of time you will find lots of free and fun activities in the area that don't cost any money. Look at the community calendars for free events going in the city during the time of travel. Also different attractions might have special discounts if you go at certain times of the day.
Create a budget and stick to it! Once you set your vacation budget it is important to try and stick to it the best you can. Try to use the above tips to save money so you have more of your budget to use to treat yourself and your family during the trip. The budget is a great way to keep yourself on track, so you don't go into credit card debt after the trip is over.
Drive Safe! This is an important one. Make sure to drive the speed limit and drive safe. Watch out for other drivers as holiday weekends tend to get very busy when it comes to traffic. The worst way to ruin a fun trip is either a ticket or even worse, an accident.
A special thank you to all of those who have lost their lives fighting for our country. May we never forget all of the sacrifices that have been made for us. Everyone have a safe Memorial Day weekend!