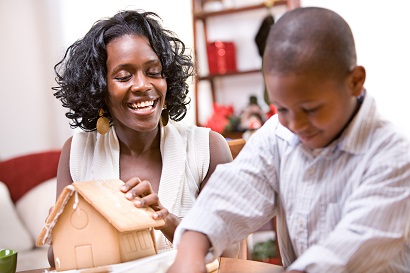 Create a "Magical" Christmas…on a Budget
Nov 27, 2017, 14:50 PM by Krista Olson
Even with all the deals on Holiday decorations this time of year, we usually end up spending way more money on Holiday decorations then we originally planned.
As a mother of toddlers, I understand the desire to create a "magical Christmas experience" children will remember for a lifetime. However, even with all the deals on Holiday decorations this time of year, I usually end up spending way more money on Holiday decorations then I originally planned. Which simply adds to my financial headache during the holidays.
So this year, I am determined to save money! Here are my best tips to help us all save while creating a magical experience for our children:
Buy LED lights
Some people prefer the color of LED anyway but LED will save you on energy cost. LED lights use roughly 80% less energy than LED, overtime you'll save some real money. Plus, they last much longer than regular lights.
Turn off your lights or buy a timer
Running Christmas lights can be expensive and do you need the lights on all night when no one is awake? So try to turn off the lights when you are going to bed, or you can buy a timer that controls all of them that will turn off at a certain time. When I have done this in the past I just set the timer for midnight and that way I don't have try to remember to turn the lights off.
Try DIY (do it yourself)
Christmas decorations are expensive and many times, we buy impulsively while shopping on snow globes and ornaments we don't even need. For the best DIY ideas… check out online tutorials and videos that show you how to make awesome decorations.
Sometimes less is more
As mentioned in tip two, sometimes you accumulate more decorations than you need. Look at the rooms and plan ahead; you can have a beautifully decorated room by decorating modestly. So plan ahead and make sure you don't have too many decorations. As much as you may want, you don't need new decorations each year. If you are someone that feels strongly about not having the exact same set up every year rotate your decorations each year.
Wait for after Christmas to buy decorations
This can provide huge savings! Plan ahead, if you want new decorations wait until after Christmas and buy decorations for the following year. Immediately after Christmas or even in the last couple of days leading up to Christmas they start clearance out all the Christmas stuff. Especially if you need a new tree you can save hundreds of dollars if you wait for after Christmas.
Shop for the best prices or use coupons
You can find some great deals if you compare prices and look for the best deals, this might mean you have to make a couple stops but you save a lot of money looking for the best deals on lights and decorations.
A magical holiday doesn't have to mean expensive and it feels good to do so efficiently!