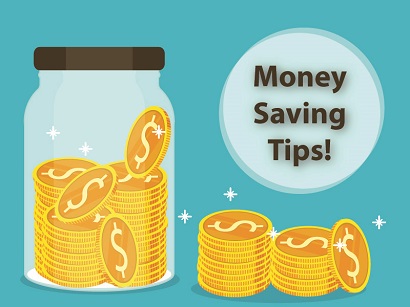 Tips to Spend Less to Reach Your Goals
Aug 15, 2017, 13:49 PM by Krista Olson
Everyone is saving up for something. A new car, a vacation, retirement…maybe even just a little more pocket money
Everyone is saving up for something. A new car, a vacation, retirement…maybe even just a little more pocket money. In fact, our family is saving for all of the above!!
The key to reaching our goals start with spending less money elsewhere. Easier said than done, right? This week I decided to dissect the idea of spending less money, to find funds to reach your goals.
Where can you find savings? First you have to find out where you spend your money. Unfortunately, understanding your spending begins with the "B" word. You guessed it…BUDGET, yuck! Don't despair, Winnebago Community Credit Union makes budgeting simple with Moneylink available in our Online Branch.
This amazing tool will take all the withdrawals out of your checking account and itemize them based on the payee and then group like items into categories. Then you can adjust the allocations based on your budget needs. AND better yet, you can bring in spending from outside sources like credit cards and other financial accounts. Learn more!
Start by reviewing checking, savings and credit card accounts to total up where your money is going. You'll be surprised by the results.
For example – in your mind you might be spending $30-40/mo on coffee, but in reality, with the information in front of you $3.50/day for coffee x 22 working days = $77! Is that morning cup-of-joe worth it if coffee at work is a quarter? Maybe just treat yourself to gourmet coffee on Fridays, or Mondays or both. You just saved $30 a month!
Shaving off $20 here and $10 there starts to add up and there are plenty of areas to look. Some of the largest savings are found on cable, cell phone, Internet bills – plus, groceries and eating out.
Questions to ask yourself:
CABLE
Could you do away with a premium package?
Do you need cable at all? Consider "cutting the cord"
Is NetFllix a less expensive alternative?
Do you have high-speed internet? Maybe streaming is the answer like Direct TV Live, PlayStation Vue, Hulu, Sling TV and many others.
Have you negotiated with your cable provider?Call to cancel and they will likely offer you a better package.
CELLPHONE
Can you reduce your voice, data, text plan?
Do I need the latest-greatest phone? Going with last year's latest-and-greatest model provides real savings.
Do you use your home Wi-Fi for your phone instead of the data plan? This will greatly reduce usage and allow you to choose a lower priced plan.
OTHER PROVIDERS – WI-FI, Insurance, Gym membership etc.
Shop around annually for better pricing then negotiate with your current provider or mover over to a new one
EATING OUT – We all know this is a budget buster.
Can you reduce this amount by half?

Typically people spend anywhere between $5-10/day eating lunch out each day. So you are talking $180-$250/mo if you go out to eat vs. maybe $50 if you pack your own lunch.That's a used car payment!
SHOPPING
Clothes – Try this for 6-months…only buy clothes from thrift stores or department store final clearance racks. You'll be amazed at the deals and great clothes. You have to shop more frequently, so go each time with will power knowing you may leave with nothing.
Back-to-School - plan your purchases ahead of time and wait for sales. If you have to buy notebooks, folders and other supplies outside of back-to-school sales it can cost a lot more money.
Credit Cards –consolidate high interest credit card balances onto low-rate cards. WCCU's rates are as low as 9.9% apr, almost half most department store cards! You will be amazed the impact this can have on your budget.
Once you find saving put that amount in an automatic transfer into your saving account each month and lower your monthly budget by the same. Then follow through every month. Review your plan frequently and set goals holding yourself accountable.
Last but not least – treat yourself with the savings whether it be vacation, a new car, or a special night out.
Finally – If you have any tips you have used in the past or are currently using to save a little money feel free to comment below, we would love to hear what they are!