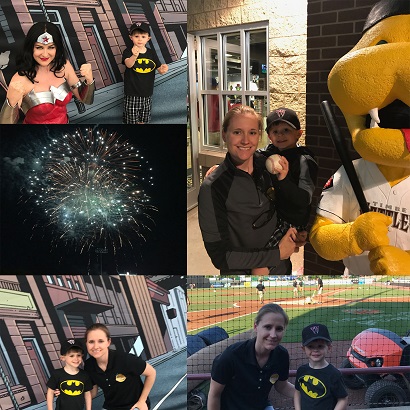 Timber Rattler Baseball Offers Family Fun!
Jun 26, 2017, 13:49 PM by Krista Olson
Take me out to the ball game… Super Hero Style! Our family recently attended a Timber Rattlers baseball themed family night game June 9th. Timber Rattler Super Hero themed family night, was a ton of fun for the whole family.
The game also got me to thinking about the WCCU Timber Rattlers game coming up Wednesday August 2. In fact, tickets go on sale this Wednesday, June 28th so act soon before the game is a sell out every year. Tickets are just $6 each and covers the picnic dinner and game tickets. To get yours, stop in at any WCCU to purchase them.
We arrived at Super Hero Night a little early and the kids were able to receive the free Fang toothbrush holder give-away to the first 1000 fans. We were also able to meet Wonder Woman and Batman and take pictures with them before the game. It was also really neat to see all the fans dressed up as their favorite super heroes. Throughout the game they played super hero music and themed the jumbo screen to display different superheroes (home team) or villains (away team) for each of the players next to there current stats.
They also have a fun kids area with playground and bouncy houses for them to enjoy before and during the game, to keep your kids busy if they get bored sitting though all 9 innings. There were food and drink specials going on throughout the game and they had fun activities going on in between innings.
After the game they had a fireworks show and the kids could run the bases if they wanted. My kids had so much fun that they fell asleep during the 7th inning, woke up a little for the fireworks, but were to tired to run the bases… maybe next time J.
One really cool part of the night was after the game our seats were close to the Rattlers dug out so one of the players tossed us a baseball to keep! This was the icing on the cake for Cruz he was so excited and kept talking about wanted to go back to the game even days after it was over. I told him if he is good we can all go to the second super hero night featuring Spiderman in July!


MoreT-Rats Information
The Wisconsin Tiber Rattlers are the Midwest Minor Baseball League affiliate of the Milwaukee Brewers. The franchise actually began as the Fox Cities Foxes back in 1958 at Goodland Field. They moved into Fox Cities Stadium in 1995 and became known as the Timber Rattlers. The Fox Cities Stadium is located off Casaloma Drive in Appleton.
The Timber Rattlers really go the extra mile when it comes to appealing to families and kids. Throughout the baseball season they hold themed family nights and other promotions the whole family will enjoy. Some of the popular family nights include: Superheroes, Dinosaurs, Star Wars, Minions, Princess, Bob the Builder and many more.
Below you will find a list of the upcoming Timber Rattlers Family Nights. I would suggest reserving your tickets early as these events get some of the biggest attendances of the year and could sell out.


Timber Rattlers Family Night Schedule:
Thursday, June 22: Dinosaur Night with Special Guest Buddy the T-Rex from the PBS Dinosaur Train. There will also be a fossil dig! This is a Peanut-Free Night for any fans with peanut allergies.
Friday, June 23: Minions Night with Special Guest appearances of your favorite Minions! Also a Peanut-Free Night.
Saturday, June 24: Star Wars Night
Tuesday, June 27: Construction Day with Special Guest Bob the Builder from PBS
Friday, July 7: Princess Night #1, where they host a VIP Tea Party in the Fox Club before the game and fans are able to meet some of there favorite Princesses including: Anna, Elsa, Ariel, Repunzel and Elena of Avalor.
Sunday, July 9: Daniel Tiger Special Guest appearance (PBS). (1st 1000 get a full size Bat giveaway)
Monday, July 10: Daniel Tiger Special Guest appearance (PBS).
Friday, July 21: Super Hero Night with special appearance from Spiderman!
Saturday, August 5: Princess Night #2 with pre-game tea-party (limited spaces) and special appearances from Belle, Merida, Moana, Tinkerbell and Cinderella
Sunday, August 6: Curious George special appearance PBS
Saturday, August 19: Boldt Construction Day with Bob the Builder Appearance PBS
Sunday, August 20: Touch a Truck day
Monday, August 21: Kids Rock the Ballpark with pre-game performance by Appleton Rock School and Bike Helmet Giveaway (limited availability


Other Daily Promotions:
Brewers Sunday: Players were Brewers-themed jerseys and Fans can play catch on the field before the game. After game meet current Timber Rattlers for autograph session.
Qdoba Q'Monday: Purchase any lunch entrée at an area Qdoba on Monday when the Timber Rattlers play at home and you will receive a free ticket that may be used at any Monday home game.
Wednesday: Bang for your Buck! $1 hotdogs, $ Soda and $1 domestic beers
Fridays: Kids Run the Bases, Post Game Fireworks!
Saturday Family Nights: Kids run the bases, Post Game fireworks!
View More Details about the Timber Rattlers Themed Nights.
View the Full List of upcoming Timber Rattler game promotions and ticket information.
You can get more information on the Wisconsin Timber Rattlers by visiting there website or Facebook page.
If anyone attended a previous Timber Rattlers event we would love to here which one and your experience in the comments section below!