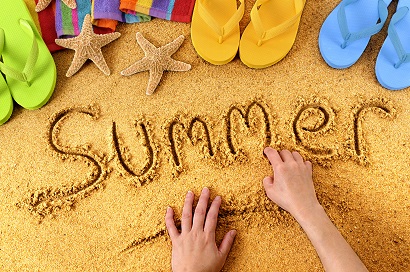 Summer Family Fun on a Budget!
Jun 5, 2017, 13:49 PM by Krista Olson
My least favorite comment from my kids in summer is "I'm bored". How about you? It's a balance for us…finding fun activities for our kids and staying on budget. What I do like about living in the Fox Valley though, is all the cheap or free kids activities.
Our kids love music. Music in the park or in Neenah they call it the out to lunch concert. These free concerts are fun for kids of all ages. WCCU sponsors the yearly kids' concert, which is August 17! Bring a blanket, lawn chairs and a picnic basket and have your kids run off some energy and play with some of the other kids or just sit down and try to have a nice picnic.
Need to cool off this summer? Pollock Water Park in Oshkosh is just the ticket. Season passes are very affordable, or you can buy a day pass. Go on one of their special event days and increase the fun! Winnebago Community Credit Union is the Official Special Events sponsor to boot!
If your kids need to run off some energy, there are plenty of amazing parks in the area. Here is a good list of popular parks http://govalleykids.com/parks/. Some of my favorites in the area are Memorial Park in Appleton with huge play sets and plenty of space to run and onsite bathrooms. Another is Riverside Park in Neenah, which feature an awesome rocket ship playground, which my kids love! Then another personal favorite is Menominee Park in Oshkosh, which features a castle like playground, a zoo and my son's personal favorite a train, which isn't free but very reasonably priced.
Which brings us to another favorite family activity, the Zoo! The NEW Zoo in Green Bay is also great local zoo, it does cost money to get in there but it is reasonable. They do have family season passes option if you are planning to go a lot. If you are looking for a great day trip there are two zoos reasonably close. Both the Milwaukee Zoo and the Henry Vilas Zoo are within range for a good day trip. The Milwaukee Zoo offers 2,000 different animal exhibits leaving it the one of the biggest in the state. The Henry Vilas Zoo, located in Madison is admission-free. They have a huge selection of animals for being a free public zoo. It is one of 10 free AZA (Association of Zoos & Aquariums) Zoo remaining in the country.
If you are looking for a reasonably priced amusement park in the area that has rides for younger kids then check out Bay Beach in Green Bay. It's only a short drive and the rides are very affordable. Most rides are about $.25-50 each, some of the bigger rides are $.75 and the Zippin Pippin Roller coaster is $1.00. This is also one of my kid's favorite special trips during the summer. They also have a wildlife sanctuary!
Here is a list of a couple other summer fun activities to do with the kids that won't break the bank.
Go Camping

There are some wonderful campgrounds in the area if you wanted to take the family on an outdoor weekend adventure. Here great list of Wisconsin campgrounds. If you want the whole camping outdoor experience but want to stay close by, why not just camp out in your backyard. Pop up a tent bring out some flashlights and spend the night outside under the stars, and you will also have the convenience of your own bathroom only a couple feet away.

Movie in the Park

Leach Amphitheater in Oshkosh shows a couple kids' friendly movies during the summer and it is FREE to attend! Appleton Memorial Park also hosts FREE movies in the park. Here is a full list of area parks that show movies during the summer along with their movie schedules.

Go Hiking or Nature Walk:Here is a list of 10 family friendly trails in the area.

Go to the Local Pool or Splash Pad:Pollock Water Park in Oshkosh is a great place to cool down and relax a bit for the day. Here is a list of other pools in the Fox Cities areas.Another idea would be to make your own backyard waterpark, set up some sprinklers, fill up some water balloons and squirt bottles and let your kids run around!
Catch a Timber Rattlers Game:They have many different themed family nights through out the summer months that are fun for kids and adults!
A great resource of kid friendly activities to do around Fox Valley is govalleykids.com.