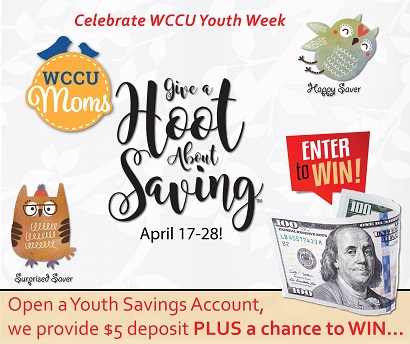 Youth Week provides the perfect time to get your children saving.
Apr 10, 2017, 13:49 PM by Krista Olson
Starting early is a key to teaching kids saving skills. And from April 17
th
until the 28
th
Winnebago Community is making it easy. Just open a youth account for your family members and we'll provide the opening $5 deposit, plus you'll be entered to win a $100 savings deposit!
One of the most important financial steps you can take for young ones is to talk about money matters. Being honest and keeping the information age appropriate is the key. Here are a few ideas to get started.
Ask questions. If you're going out to eat, talk about the price difference between the options, and ask them which they would choose. If they select the more expensive, talk through what you might have to give up later in the week.
Make them part of your budgeting. If you're doing any kind of financial planning for the year, solicit input from your kids. Enlist them in your saving goals—no one watches you more closely than your kids, so they're natural accountability partners! If you're uncomfortable revealing too much of your financial picture, you can keep the discussions high level, but involving them makes money less abstract.


Open a youth savings account at Winnebago Community Credit Union. This is the best way to help them to learn to save for what they find meaningful in life. A lifetime of good savings habits can start now!
So take time April 17-28 and take advantage of our Youth Week Celebrations to get your family on the path to future financial security. Good Luck!
Download Contest Rules
For more detail
visit our Youth Week web page