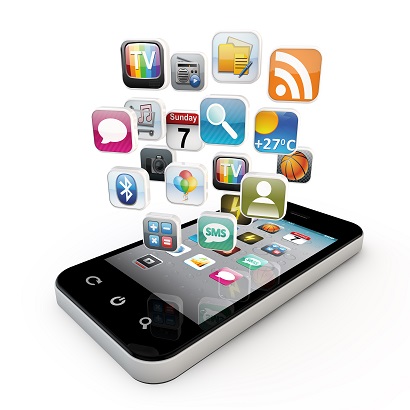 Free Smartphone Apps Help Manage Family Finance
Mar 7, 2017, 14:49 PM by Krista Olson
Winnebago Community Credit Union offers a very similar free product called Moneylink in their online branch.
There is no doubt; money is one of the biggest stressors in our lives, especially if you're raising children. Keeping personal finances in order and the family afloat is easier said than done!
As a busy working mom myself, I don't always have the time to go sifting through piles of receipts. Just trying to keep track of all the bills and making sure they get paid on time is hard enough. In fact…don't tell my husband, but there were a couple times I either forgot to pay one or paid the same bill twice, yikes.
I needed a new plan and I turned to technology to help automate my money management, budgeting and even savings.
Did you know that according to the 2016 U.S. Mobile App Report from comScore.com an average of 90 percent of all our mobile media time goes towards using apps. There is no question how handy some apps can be when it comes to communication, news and even catching Pokémon, however many people don't know how helpful they can also be when it comes to finances. Some financial apps can not only make budgeting a breeze but also help you save more money.
Here are a couple apps for iPhone and Android devices to help you budget, manage and save money.
Cost: FREE
This is by far my favorite money management app. This app basically budgets your life. Mint links to all your bank and credit card accounts and gives you a full breakdown of your overall financial health. The app will create budgets for you based on your previous spending per categories, such as entertainment, food, ect. It will then notify you when you go over your normal spending limit. Mint will also help find ways you can save more money based on your lifestyle.
Winnebago Community Credit Union offers a very similar free product called Moneylink in their online branch.
Mint also came out with an awesome update recently where you can now track and pay your bills. You can set up reminders so you don't miss a bill payment and you can pay your bills right from the app.
Cost: FREE
Wally is a personal finance and budgeting app. It compares your income to your expenses and helps you set and achieve your goals. This app also works great as an expense tracker if you need to track expenses for business purposes. You can snap a picture of your receipt or manually enter the expenses. This is a smart app so it keeps track of where your money is going to help you reach your financial goals.
Cost: FREE
If you are looking for an app to help you save money, Digit is the one. Digit will analyze your spending patterns and then move small amounts of money that you don't really need for your day to day expenses and puts them into a Digit savings account. They will send you regular text messages to tell you how much money has been saved. If you ever want to use that money just text how much you want to withdraw and it automatically transfers it back to your checking then next business day. The idea behind this app is if you don't see the money, you won't spend it.
Cost: FREE
Qapital is a saving app very similar to that of Digit, however it differs in that you can set up rules or triggers to have money transferred into your Qapital savings account. For example you can set it to round up the change on each purchase and store that in your savings account or you can set a daily or weekly transfer amount till you reach a goal. Qapital is a fun and easy way to automate your savings.
This app takes the savings concept a little bit further by investing your spare change for you. After you set it up, you can decide to do reoccurring or manual investments or just choose to have Acorns round up your purchases and invest that change for you. The app will select the best smart investment portfolio for you. The app is free to download, however for accounts with $5000 or more you have to pay 0.25% per year.
Cost: FREE
This is a unique app, once you download and set it up, it will automatically scan your online statements and find all of your current subscriptions, such as Netflix, gym membership, etc. You get monthly reports, which flag any changes to subscription fees. You can also easily cancel any of the subscriptions you no longer want or need with the click of a button inside the app itself. Truebill can help you save money by alerting you of subscriptions you may no longer need.
Cost: FREE
Formerly known as BillGuard, this app not only allows you to view all your accounts and balances in one place but it also monitors credit card fraud and unauthorized transactions. You are able to see all of your transactions and it has an analytics button that breaks down spending per category. Prosper Daily will keep track of spending using your cards and alert you if a charge appears to be fraudulent. There is also a feature that shows recent security breaches. They also offer a premium ID theft protection service for $9.99/month.
Do you have any good money management or savings apps that you use? Let us know below in the comment section.