WinCU Family & Friends Blog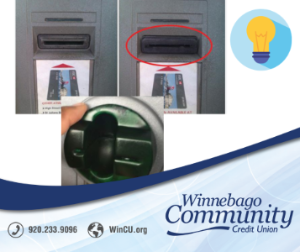 Skimming
Nov 6, 2023, 21:33 PM by Dana Racine
We take safeguarding your personal information seriously and continue to inform you of reported fraud issues promptly. Recently there have been a number of incidents in our area involving skimmers/shimmers devices. They are illegally installed on ATMs and point-of-sale (POS) terminals.
What is skimming or shimming?
Skimming is an illegal practice used by identity thieves to obtain credit card information from a cardholder. Fraudsters use a device called a skimmer or shimmer which is covertly installed on ATM machines or gas pumps to collect card data. The criminals use the data to withdraw cash or conduct fraudulent transactions using the card number and security PIN. Skimmers are often placed on top of the actual card reader making it stick out at an odd angle or cover arrows in a panel.
How do I safeguard myself?
At the gas pump or ATM, inspect what's around the card reader. Look closely above it to see if there are any holes looking down on where you would insert your card. There might be a hidden camera capturing you entering your PIN. Keep in mind that ATMs often have security cameras built into them. Consider keeping your card in sight at all times and covering the pin pad when inputting security codes from the pump or ATM. Use the tap-to-pay feature on your cards which is harder for them to obtain information on.
Use online and mobile banking to review frequent review transactions to quickly detect fraudulent activity and contact the credit union if something is detected. You can also freeze your debit card by going into Online or Mobile Banking. Go to one of your accounts then look for the Freeze/UnFreeze Debit Card button on top of the account. Keep in mind that freezing your account will also stop upcoming scheduled payment transactions. Set up alerts within Online and Mobile Banking look for the "bell" Account Alerts in the menu.
If you discover a skimmer/shimmer being used report it to the police and the establishment you discovered it at immediately. Then promptly contact the credit union at 920.233.9096.