WinCU Family & Friends Blog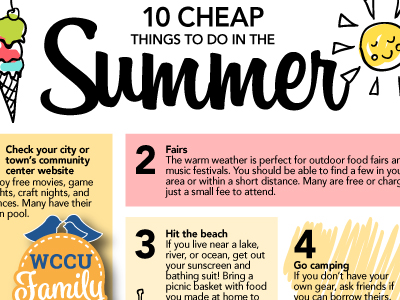 Summer Bucket List
Jun 9, 2021, 19:55 PM by Dana Racine
What is it about summer that brings out energy and life? Once again the warm breezes and long sun-filled days are back. Thank goodness for the change of pace and attitude. Now it's time to figure out what to get out there and do!
Beyond taking in the rays, getting cool by the water and long sun-set walks, there are several other great local activities to add to your list now that we are moving ahead without masks and able to see one another this summer.
1. Check out your local community website or social page: Enjoy the outdoor concerts in the park, free movies, game nights, craft events, dances, block parties. Pools like Oshkosh's Pollock Pool and Neenah Pool.
2. Fairs: The warm weather is perfect for outdoor food fairs and music festivals. Many are free or charge just a small amount.
3. Hit the Beach: Head to Menominee Park to get a sand beach location Lake Winnebago. Neenah offers Arrowhead Park or Shattuck Park by the waterfront.
4. Go Camping: If you need gear, ask friends if you can borrow theirs. You can also rent camping equipment.
5. Take a Hike: Find nearby state parks, grab a good pair of shoes and go enjoy mother nature at her best! In Oshkosh you'll find Tribal Heritage Crossing of the WIOUWASH State Trail on Lake Butte Des Morts, Asylum Point Park with lighthouse or Terrell's Island between Oshkosh and Omro. Feeling adventurous check out Trestle Trail and Loop the Lake in Neenah.
6. Start a Garden: Whether you live in the country or city, you can still make your own little garden. Grow your own herbs, veggies, or flowers.
7. Go on a Bike Ride: Explore the city on two wheels. Check out Rails to Trails and pedal away!
8. Baseball: What could be a more American thing to do in the summer? Catch a Timber Rattlers game or organize your own game at a nearby park.
9. BBQ Party: It could be as simple as inviting your neighbors over for dinner or as complex as a full block party with potluck.
10. Go Picking...Fruit that is: A quick Google search can sprout lots of options for farms nearby where you can pick the freshest local fruit.
11. See the Animals: Our fuzzy friends are always fun to visit but more so in the summer. Menominee Zoo is FREE in Oshkosh, doesn't get better than that!
12. Adventure Parks: On a smaller scale Menominee Park offers a few rides or you can visit Bay Beach a short drive away.