WinCU Family & Friends Blog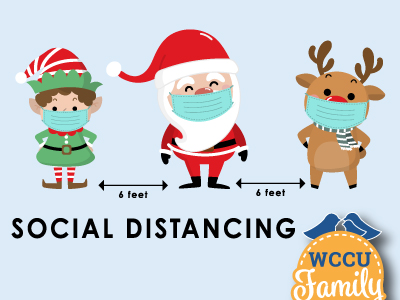 Coronavirus for Christmas?
Oct 6, 2020, 19:12 PM by Dana Racine
This year many people missed out on annual events and holidays including Easter, Mother's Day, Father's Day, and the Fourth of July, typically spent with loved ones, due to COVID-19 and social distancing.
With the addition of mandatory facemasks and back to school alterations added to the mounting pandemic adjustments we've come accustomed to in 2020. Many of us are looking ahead, wondering how or if coronavirus may impact the largest holiday of the year-Christmas.
Some experts think we could have a vaccine for COVID-19 by the time Santa is on display, others warn we won't be properly protect until next year or later.
Though there is still time, many people have begun their holiday shopping with some paying into their Christmas club accounts while others consider a holiday cash loan.
What is a Christmas club account? A Christmas Club is a short-term account set up by a financial institution to allow consumers to save money for the holidays.
Rules and requirements for Christmas Club account holders can vary from one bank or credit union to another. With some accounts, there's the opportunity to earn interest. And at some financials, Christmas Club accounts more closely resemble CDs. There's a penalty for any withdrawal that happens prior to a certain date during the holiday season. With Winnebago Community Credit Union's Christmas Club Account you can save a little over time and use the funds anywhere you choose. The "No Fees" if you decide not to purchase something is another nice perk.
Another option is a low interest personal loan that can provide cash for not only holiday gift purchases but can be used towards decorating, celebrations, travel or even unexpected bills. Often these types of loans are for a low amount, can be less expensive than your typical credit card and provide no lingering balances or finance charges.
"The holidays can be a stressful time, at Winnebago Community we want to help decrease the financial worry and let people focus on what really matters," said Patty Felker, Mortgage Loan Officer.
We simply don't know what it will be like in November and December when we head out to find gifts. If you don't venture out, online shopping will continue to be on high demand making certain items hard to find.
One thing is certain, the coronavirus crisis is making us appreciate the little things - time with our family and friends this season.