WinCU Family & Friends Blog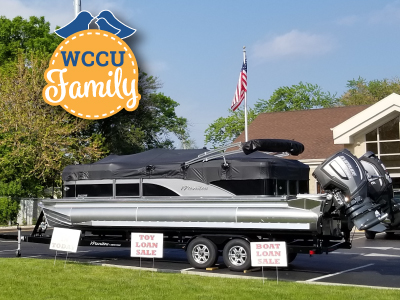 Tips on How to Buy a Boat Without Sinking Your Budget
Jun 6, 2019, 22:25 PM by Dana Racine
In Wisconsin we love our boats! Not matter if it's for fishing, tubing, skiing, wakeboarding or just floating on the lake or river we love to get out on the water.
After a long winter it's a great way to spend time with the family or just to get away to relax on the lake catching fish.
The downside of boats is that they are expensive. So, it's important to plan before you go shopping to make sure you don't sink your budget with a nice new boat.
Let's look at a few tips to save some money and stay within budget while still keeping your dream boat a reality.
Do you research!
What will you be using the boat for? Just fishing, tubing and family outings, fishing and family recreation? How often do you plan on using it? This is when you should start to shop around, in order to get a better understanding on what you are looking for in a boat and a price ranges.
Remember, this is a research phase to gather information you need to make a future buying decision, with a boat being a large purchase you do not want to make an impulse buy.
How much can I afford?
Once you have done your homework, you should create a realistic budget and savings goal that will make your boat purchase possible. This is were you narrow down what boat features are the most important to you and your family without going over your limit. Then you can establish a timeline for your down payment savings goal.
If you can only afford to save a little each month, and your timeline for owning a boat is a couple years in the future, then consider opening a higher yielding savings account or shared certificate to help grow your money faster. Interested in saving options, we are here to help just contact one of our member service representatives today!
When is the best time to buy a boat?
In Wisconsin boating is a very seasonal recreation. Most of the time you can find the best deals either during winter or in fall as dealers clear out the old inventory or as private sellers are looking to clear out space in their garage for the winter. However, you will also be able to get some really good deals during boat shows, or dealer open houses, which usually occur in the early spring to early summer months.
Don't forget the added expenses of owning a boat!
One of the biggest things people overlook or underestimate when buying a boat are the added operating expenses. A rule of thumb is to estimate around 15 to 20% of the value of your boat for operating expenses, however the larger the boat the higher the percentage may be. Here are some of the added expenses to factor in to your boat budget.
Launch Fees and Hauling
Dockage fees
Storage (see more on this below)
Boat covers
Maintenance (engine, hull cleaning, repairs, batteries, etc.)
Winterizing
Transportation (boat trailer)
Marina fees
Boat Insurance
State boat registration or documentation
Trailer registration
Safety equipment (life jackets, flares, charts, etc.)
Fuel and oil Cost
Other equipment (recreational, tubing, skiing, fishing, etc.)

Plan ahead for storage.
Boat storage can become expensive; especially if you don't have space for it in your garage, so plan ahead and buy a boat that either fits in the required area or plan to rent a space. If you need to rent a storage space then be sure to shop around because all storage facilities are not alike.

Buy a boat trailer to save money.
Buying a boat which can be stored on a trailer will save you money in the long run verse a boat which is stored in the water. Benefits and tips of a boat trailer include:

Filling up your fuel tank on land: Most marina gas prices are often up to a dollar more per gallon.
Store at Home: With a trailer you can store the boat at your house if you have the space in your garage or yard.
Get a trailer with a swing-away tongue:With a swing away tongue you might be able to fit it right in your garage, which will save the expense of buying a canvas cover for outdoor storage.Also if you have to store it at a facility the spaces are mostly priced on length and by being able to swing back the trailer tongue you could save a couple feet.
Buy a boat that will fit on a single Axle Trailer: If you are looking for a boat in the 16 to 20 foot range then buying a single axle trailer will save you money.Besides the fact that it usually costs less to buy, there will also be less components to service. (Replacing 2 tires is cheaper then 4 and one axle costs less to service then 2.)
Get Tire Covers To Extend Life:If you get a trailer I would highly suggest you invest in a $20 pair of tire covers that will shield the tires from UV radiation while on storage sites.
Do Your Own Basic Trailer or Boat Maintenance:If you can I would suggest doing your own basic maintenance on the trailer and/or boat, as it will save a lot of money. However, if you are not skilled in this area or know someone that could help you then I would suggest taking it in to a professional.
Use Public Launches: Plan ahead and look for public launches, which usually only have a small fee, compared to private marinas.For details on Boat Launches/Mooring in Oshkosh Click Here.
Find a boat buddy or buddies!
Boats are very expensive so look for someone to go in on the purchase with you. Buy it with a fishing buddy or another family that is looking to use it for recreation like you. This can drastically cut down on the overall expenses of the boat, but just make sure you set specific terms as to who is going to get the boat when.
Want to own your own boat and still have the benefits of a boat buddy? Then talk to some of your friends or family about them helping pay for some of the operating expenses (gas, maintenance, etc.) if you let them borrow the boat or take them out on the water sometimes.
Should you buy new or used?
You can sometimes find some great deals on pre-owned boats that are an older model of the new boat your were looking at. This is a great way to save some money and still get most of the features you are looking for without having to pay the top dollar for the newest model. However, before buy used make sure you get the boat check out by a professional so they can determine its condition and value. You can also check comparison websites like NADA and BUC.com to make sure asking price is appropriate for year and model.
Ready to make some waves with a new boat? Our lenders at WCCU can help make your dream of owning your own boat reality with our great boat loan rates! Click Here for more details or call us today at (920) 233-9096.
Most importantly, have fun and stay safe. Boats are great especially for Wisconsin summers, good luck finding the perfect boat to fit your needs and your budget!