WinCU Family & Friends Blog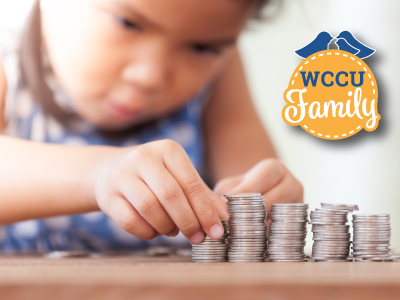 7 Ways to Make Saving Fun for the Whole Family
Feb 27, 2019, 20:52 PM by Krista Olson
Great ways families can save money throughout the year and how WCCU can help.
Looking to save up for an exciting family vacation? Or maybe buying a new family car, house, pool, or saving for college? Whatever it might be, saving as a family can be a challenge. So many people get tired of paying off debt and saving money due to lack of motivation or the fact that it just feels so monotonous.
So, why not look for ways to save that are fun for the whole family? This can help keep the entire family motivated and interested in saving money in order to reach the financial goal. Whichever direction you choose to take, Winnebago Community Credit Union has a variety of options to assist your entire family, including our WCCU Kids Club. WCCU will even make the open deposit of $5 for each youth savings account opened!
Here are 7 ideas you can use to make saving money fun for everyone!
Set a Family Savings Goal: Allow everyone to contribute. Use a fun chart that shows the progress made by each contribution, such as a savings thermometer, or sticker chart. Working as a team will make it fun and reaching the savings goal can be celebrated with the entire family.
This is a great way to teach your kids about money, spending and saving. So have some fun with it!
Make a Family Savings Bank: Kids are visual, so get crafty and make your own family piggy bank. You can use an old milk jug, glass or plastic container then decorate it together and let the kids go hog wild with colors! Complete it with a picture of the final goal at the top of the bank.
Not the crafty type? No problem, each WCCU child receives a WCCU Kids Club Piggy Bank when a savings account is opened.
Make a Saving Game: Creating a savings game is a great way to get the whole family involved. Make your own game of Monopoly or LIFE and anytime someone contributes to the savings fund they can take a turn. You can have little prizes when someone reaches certain areas of the game. You can also make a savings contest and compete with one another to see who can save the most. The key is to make it fun!
WCCU's Kids Club deposit books are another fun activity for kids. Youth accounts are eligible to fill a WCCU Kids deposit book with stamps. They will receive a stamp for each $5 deposit into their savings account. When they fill all of the blocks, WCCU will make a $5 deposit into their account. Another fun WCCU Kids Club game is Fishing for Cash on their birthday. The child grabs as many coins out of the fishing bowl as they can hold and that amount gets deposited into their account. No fishy mess, just fun and more savings added!
Sell Stuff Around the House: Have everyone go through their closets and find toys, clothes, or other items they don't use anymore and sell them on the local Facebook, Varagesale or For Sale groups. If you find lots of stuff and random items consider running a family rummage sale.
Match Savings: Encourage kids to contribute to the family savings by matching the money they put in. When they are little you can match dollar for dollar, as they mature consider matching 50% of their savings in order to reach the objective. This will help them stick to the savings plan and encourage them to reach their goal.
Let WCCU help save for your child, each WCCU Kids account earns interest to help the savings grow. WCCU will also provide $5 for each report card with an "A" on it!
Take Advantage of Local "Free Days": Free community events, libraries, or other fun activities you can do for no-cost entertainment, such as a backyard camp outs, hiking trails, going to the park, having a board game or movie nights. This will free up more funds to put towards the savings goal.
Open a Family Savings Account: After everyone has filled up the family piggy bank, set up a family savings account. Go in as a family to deposit the money saved, so everyone can see how the money adds up!
Winnebago Community Credit Union is here to help! We offer many services and resources to help your family save together and reach your financial goals. WCCU Kids Club is the perfect first step in showing your kids how to begin on a healthy financial path. Plus, there are no fees or minimum balances on WCCU youth accounts. From traditional savings accounts, Share Certificates, Money Markets or our Christmas Club accounts, we can help your family select the best financial product to be able to reach that overall savings goal faster.
For more information call us at (920) 233-9096 or stop in any one of our branches today!