WinCU Family & Friends Blog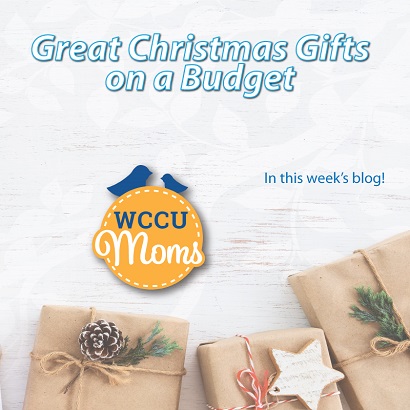 Great Christmas Presents on a Budget
Dec 11, 2018, 21:13 PM by Krista Olson
My ideas will provide great, affordable gifts with a personal flair!
Christmas gets expensive fast. Especially with the popularity of technology gifts these days…seems like everything is computerized or requires batteries! But, I've got some ideas for affordable Christmas gifts that will be a hit!
Pictures and frames - Pictures are relatively cheap as you can get prints for around $.10-.50 each depending on the size and the type of gloss. Then you can pick up a simple one-picture frame or go for the bigger multi-picture frame. If you really want to save and get creative you can create your own frame, there are some great tutorials online that show you how.
I don't know a gift that my parents like more than a nice frame with pictures of their Grandson's in it that they can hang in the house.
Personalize Calendar – This is similar to the first idea but you can put together a full 12 or 18-month calendar and get it printed out for under $20. I know I have several people that look forward to getting their new personalized calendar every year. We usually use Walmart.com or Shutterfly as they both provide great options to personalize a calendar by adding different pictures and designs.
Homemade Coupon Book –It's the thought that counts, right? This is a wonderful gift idea for kids and/or adults and the best part is most of the coupons you create will cost next to nothing.
Give a gift of yourself – Who doesn't love a personalized gift. Some ideas might include get out of chores coupon, free babysitting, breakfast in bed or a favorite home cooked meal. Use your imagination. You'll be surprised how quick they will cash in the coupons.
This is also a fun way to get the kids involved in a gift idea for dad, mom or the grandparents, have them design the book and help pick the coupon ideas.
Shop clearance – There are plenty of great gifts that you can get on clearance. Sometimes you can pick up last years model of a certain item on clearance for half the cost of the newer model from this year. And majority of the time that older model will have close to all the same bells and whistles as the newer model.
I also like to do Christmas shopping all year long that way I can pick up some gifts that hit the clearance section during the summer and fall months and pay only a fraction of the price for them, then if I waited till November to start shopping when clearance shelves have much less selection.
Celebrate Christmas after the holidays – if it is an extended family get together, wait until after Christmas to have the party. People will be less busy and you can shop all the after Christmas sales to save money.
Make something – there are a lot of people that would love a hand knitted scarf, hat or gloves. If you have a talent for making something whether it is knitting, woodworking, baking or painting. You can make something from the heart and with your hands and save.
I hope these ideas help you with nice gift ideas and possibly save some money! Some of the best gifts I have received in the past are things that didn't cost much. They are things that came from the heart and were specially for me.
Have happy and safe holidays!