WinCU Family & Friends Blog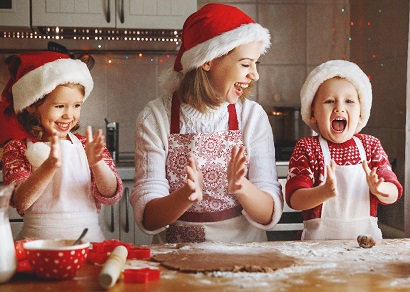 10 Holiday Traditions to Start With Your Kids
Nov 23, 2018, 16:44 PM by Krista Olson
Create special moments to last a lifetime for your family
"It's Beginning to Look A Lot Like Christmas!" There is no doubt for most of us the Holidays are some of the most exciting, yet busiest times of the year. With all this hustle and bustle it's easy to let Christmas slip by without creating special memories with loved ones. In our house, we try to make the Holiday season all about family and fun traditions. These special moments are a great way for us to make wonderful memories to last our boys a lifetime.
Looking for a new fun Holiday tradition for your family?
Here is a list of 10 ideas for family traditions that you and your kids can look forward to year after year:
Elf on the Shelf: This is a semi new tradition and new to me in the last of couple years. With my boys being younger they really enjoy this tradition. They look forward to our elf making his way to our house and spending the holiday season with us. Each morning they enjoy waking up to see what kind of shenanigans he got into overnight.
Decorating Cookies: This was one of my favorite traditions when I was a kid and am happy to share it with my kids. Even though it tends to get pretty messy the kids love rolling out the dough, cutting and decorating the cookies. If you want to make it easier or don't have that much time then you can always buy pre-made dough and even pre-cut cookies.
Cookie Party or Cookie Exchange: So this can be for kids or adults. You can host a get together where everyone brings cookies to share and/or exchange. You swap cookies and taste test. It's a fun time getting together and having a chance to try a new recipe.
Start an Ornament Collection: This is a fun way to capture special memories; such as baby's first Christmas, personalized ornaments with special dates, or even frame and hang your kids' school photos. You can also create a DIY ornament with your kids help as a fun craft project; these can also be good gifts.
Picking out a Christmas Tree: Why not start your family's holiday festivities off by bundling up and head out in search of the perfect tree. If you go to a tree farm they also might have other fun family activities such as sleigh rides or Santa meet and greet.
Hot Cocoa and a Movie: Sit down with the family, relax and enjoy a nice warm cup of hot cocoa and put on a favorite holiday movie. Some of our favorites are The Grinch, Christmas Vacation, Polar Express, Elf, The Santa Claus, and Home Alone.
Go Holiday Light Seeing: Pick a night and pack up the hot cocoa and hit the road! Drive around to view all the spectacular lights displays throughout town. One of my favorites is the Oshkosh Celebration of Lights at Menominee Park.
Go Ice Skating or Sledding: If the weather permits, take the kids to a sledding hill nearby or go on a family sleigh ride. This is also the time of year to grab some skates and go ice-skating!
Volunteer or Donate: The Holiday season is a great time for giving back to your community and hopefully make others lives merry and bright. There are many ways to give back around the holidays. You can make donations to local foods pantries, the children's hospital, send Christmas cards to soldiers stationed abroad, or local families in need. You could also host or contribute to toy drives, volunteer as a bell ringer, serve food at a shelter or wrap gifts for others.
Family Picture and/or Holiday Card: It's fun getting the family together to take a Holiday picture. Some families take it to the next level by having matching shirts or pajamas! You can write a little personal note if you are mailing Holiday cards.
There are so many different fun family traditions; I could go on and on! I hope this list gives you some ideas so you can create your own unique tradition that will make lasting memories.
Do you have your own Holiday family traditions? Feel free to share them in the comments section below!