WinCU Family & Friends Blog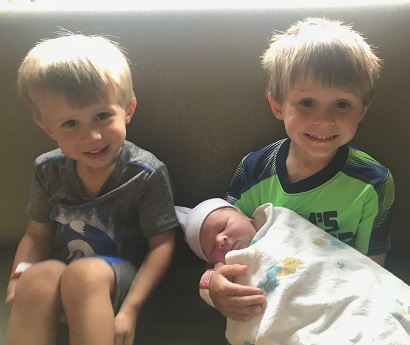 Financial Planning for a Bundle of Joy!
Aug 28, 2018, 20:21 PM by Krista Olson
Start saving and planning ahead so your baby is truly a bundle of joy! They are expensive…but worth every penny.
Last week we welcomed Zane Robert into our family and we couldn't be more excited!. My husband and I have experience at parenting, as Zane is our third baby boy. We've also learned tricks you can use in planning financially for additions to the family. Kids are expensive...but, there are ways to save whether it's your 3rd kid or your first.
The biggest expenses are pregnancy visits and the hospital stay. The longer you stay in the hospital the bigger the bill. So, you need to understand your health insurance coverage and forecast your expected costs early in the pregnancy.
One way to counteract the biggest expense is having a supplemental hospitalization policy. Most people are familiar with AFLAC or something similar. These plans pay you for being admitted to the hospital overnight. In my case, I got $1,500 each time that helped pay toward our health insurance $4,000 deductible.
To help us even more financially we put together your baby budget. We calculated out-of-pocket medical expenses to understand how much our income would be impacted. Then we budgeted accordingly for other expenses that come with our new little bundle of joy.
There are larger purchases to make as well, including a crib, car seat, high chair and stroller. Rummage sales and hand-me-downs from friends and family rule the day if you are on a tight budget.
My only caution is getting a car seat. You may want to purchase this new as most car seats have an expiration date. Sounds weird doesn't it? Car seats are constantly advancing safety and are usually good for only six years.
We did save a lot of money using hand-me-downs from other families. Our old highchair was on its last leg, so our friend provided one they no longer use. She was just happy to get it out of their house and didn't want anything in return. Saved us about $120!
Clothes, clothes, clothes… So many clothes! I'm amazed how many clothes kids go through, especially at the early stages of babyhood. Babies grow so fast after a couple uses they're too small. So try hard to save a lot of money on clothes. Friends, family, Goodwill or Once Upon a Child are all good sources. Don't be afraid though to buy a $20 outfit for a special occasion, but its silly to do that for everyday clothes.
Once you're set for the baby to come home, it is also important to plan a post-delivery budget. This includes recurring costs like diapers, wipes, extra food, child care if needed, etc..
When it comes to diapers and wipes, I find that it is best to check for sales and/or buy from club stores, such as Costco or Sam's. I use Costco and they have been great, typically the best prices I find, especially when they run sales. Some people stock up during good sales, if you do…be careful not to buy too much of one size. Babies grow out of diapers too! I budgeted $50-100/month for diapers and wipes.
For our family, the first year of baby expenses were $10,000, which includes medical expenses on our first child, then each baby is a little less since we were able to reuse much of the toys, clothes and stroller.
If you can, an emergency fund savings account is important as well. Unexpected expenses come up and a bit of a cushion reduces stress when they do. I like to have at least three months' worth of living expenses covered in our emergency fund.
So, start saving and planning ahead so your new baby is truly a bundle of joy! They are expensive…but worth every penny.