WinCU Family & Friends Blog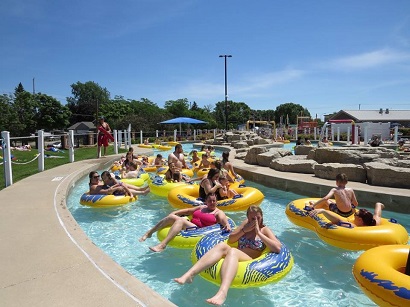 Beat the Heat at Pollock Community Water Park
Aug 28, 2018, 20:15 PM by Krista Olson
This hidden gem in our community is the perfect place to cool off on a hot summers day.
Being from Wisconsin, which is the Water Park Capital of the World, our family enjoys planning a summer trip to the Dells, however the Dells gets costly when you take the whole family. So if you are looking for closer more affordable water park option, then check out Pollock Community Water Park in Oshkosh. This hidden gem in our community is the perfect place to cool off on a hot summers day.
Located on Taft Ave in Oshkosh the 3.24 acre Water Park has so many activities for kids of all ages. Younger kids can enjoy the shallow pool playground which features water buckets and interactive play. A sand play area, which is even equipped with a spot to watch off your hands and feet, once you are done playing in the sand. Then for the older kids and adults they have multiple waterslides, a lazy river and an open lap pool.
If you or your kiddo's need to beat the heat with some frozen treats they even have their own concessions area called the Tadpole Café. The café also provides a little heavier snacks to hold your family over for the afternoon; including hot dogs, nachos, pretzels, chips and popcorn.
As the official special events sponsor of the Pollock Pool, Winnebago Community Credit Union helps provide fun special activities all summer. If you missed the first few don't worry they have some more still coming up on the 2nd half of the summer.
Some of the upcoming events are: Christmas in July on July 14th 1-4 PM, Shark Week Shakedown July 26th 1-4 PM, and the annual Ducky Days August 9th 2-6 PM.
You don't have to wait for a "special event" to check it out. This is honestly one of my kid's favorite places to go. So, if you haven't already checked it out you should and for the cost of admission you can't go wrong. It is only $3 for the day for kids (3-17 years) and $4 for adults (18-59 years). Children 2 and under are FREE and seniors 60 and older are $3.
The Water Park is open June 9 – August 24, 11:30am – 7:30pm.
If you want any more information check out the website at http://www.ci.oshkosh.wi.us/Parks/Pollock_Community_Water_Park/
Also be sure to like the Pollock Water Park Facebook Page for park info.