WinCU Family & Friends Blog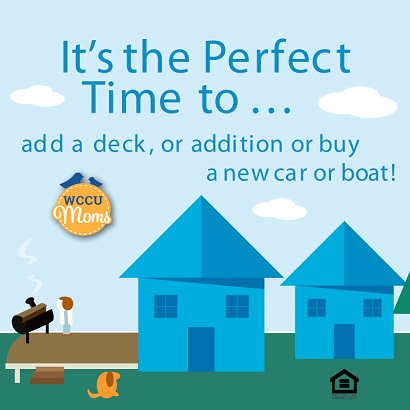 HELOC Provides Unique Opportunity
Apr 30, 2018, 13:50 PM by Krista Olson
Home values are rising now, creating more equity in your home which you can use to fund home improvements.
As a stay at home mom, part of my role is to make sure our family makes smart financial choices. For many area homeowners, the current housing market provides a unique opportunity to make a smart financial decision.
Home prices have steadily risen over the past few years. As home prices rise, the difference between what you owe and what your home is worth expands creating additional equity. You can use this equity to provide low-cost funding for home improvements like a new kitchen, bathroom, even an addition. Further increasing the value of your home!
A home equity line-of-credit (HELOC) is a form of revolving credit where your home is collateral. With a home equity line, you choose a specific dollar amount that is available when you need it. You pay a variable interest rate and have a minimum payment due each month based on the amount of the credit line used. Similar to the terms of most credit cards – only the rate is MUCH lower.
Top HELOC Benefits:
Flexible monthly payments
Access to funds when you need them
Little or no closing costs
Low-rates based on prime
Interest may be tax-deductible*
You determine how to use the funds
Lenders at WCCU will be happy to go over the details and determine the equity in your home. You may be pleasantly surprised with how much is available in your home!
Until May 31st you will receive 1.99% apr locked in for 12 months plus no closing costs or annual fee!
*APR=Annual Percentage Rate. After intro rate, rate follows prime rate (in The Wall Street Journal currently 4.75%) for 80% loan to value or less. Maximum APR 18.00%. Add 1% to prime for 80.01-90% (LTV) after intro rate . Loans subject to approval; rate based on creditworthiness. No closing costs unless appraisal required. Rates subject to change. $5,000 minimum on new HELOCs and $5,000 new money required on existing HELOC. Homeowner's insurance required. Consult tax advisor for deductibility. Some restrictions apply.