WinCU Family & Friends Blog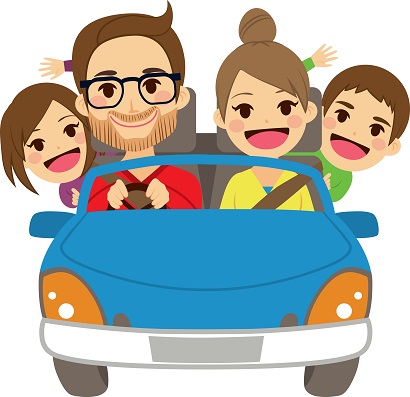 ROAD TRIP!
Aug 1, 2017, 13:49 PM by Krista Olson
Some of the greatest memories I have about family vacations were the car rides...remember, trips and vacations are about making memories, so make plans to enjoy the entire trip!
Is there anything worse that kids saying, "are we there yet?" Our family is constantly on the go during summer visiting friends and family, weddings, vacations, birthday parties, and day trips. Some are close, some far…but the travel never ends!
My little ones are totally unpredictable - they could nap for 2 hours of the ride or there might be multiple children crying and screaming most of the way.
Our first line of defense for long road trips are games – especially if the kids get cranky. Here are ones our family enjoy – give them a try on your next outing:
Alphabet game (best for ages 4 and up)- There are some variations of this game but it is pretty simple. You start at A and work your way through the alphabet by finding letters on signs, stores, restaurants and anything else you can spot while driving. If you want the game to last longer you can always exclude license plates from counting towards a letter. This used to be one of my favorite car games to play while growing up.
Animal Name Game (best for ages 5 and up) – One person names an animal. Then each person has to name another animal that starts with the last letter of the previous animal that was named.If an animal is repeated that person is out.You can use other categories such as TV shows, cartoon characters, etc…
Restaurant count (best for ages 5 and up) - each person picks out a restaurant/store at the beginning of the game and whoever spots the most of those restaurants during the trip wins.
Twenty Questions (best for ages 5 and up) - One person thinks of an animal, food item, or other thing.The other players then take turns asking yes or no questions like "Is it red?" or "does it fly?" After the players ask 20 questions, each person gets a chance to make a guess.
Road trip bingo - This is a really fun game, however it takes a little time to put together before the trip. You can make simple 16 or 25 square bingo sheet listing several different things that you may find on your trip. Or you can download and print off a couple really good pre-made ones for free.Here are a couple sites where you can go to find them:
Another idea, if your kids are into books or comics, then maybe buy them a new book or a couple new comics before the trip to keep them occupied. I have a friend who's family used to do this and they were huge readers, they said they would hardly hear a peep put of them the whole car ride. Or if you feel up to it and are not driving you could read a new book to your kids or buy a couple books on CDs. You can even borrow some from the library. This also sometimes helps them fall asleep.

BE PREPARED
Another big piece of successful road trips for our family are being prepared for everything – here are a few things that help us get by:
Water Bottles for each kid.However make sure you don't fill them up with something that is sweet such as juice or they will drink it fast and you will be stopping every 30 miles to go to the bathroom.I choose water that way you don't have to worry about them chugging as much.
Snacks!! Sometimes it seems like we hardly make it out of the driveway before someone is hungry. So, snacks are a life savor. Some of the snacks I like to pack are graham crackers, granola bars, bunny snacks, dry cereal, string cheese, fruit and veggie pouches, mini chocolate chip cookies.Remember if you have anything cold to bring along a small cooler with ice packs.
Small trash bag: This will keep the car trashed from back-to-back-to-back trips. You don't want your car looking like a dumpster!
Wet Wipes / Napkins: Whenever any kind of snacks are involved you will almost always have messy hands and faces.
Small bag of random toys: Throughout the drive hand them over a different toy when they start getting bored, this will keep them busy for a little longer.
Favorite bedtime items.Getting kids to nap in the car is best and all it may take for them to snooze is that special teddy or blanket.
Coloring Books, Paper, Crayons, washable markers.If kids get bored of the basic coloring book then ask your kids to draw what they see out the window.Another really neat idea I saw on pinterest was making a DIY magnetic lapboard for your kids to color on.Just buy a cheap magnetic baking tray (check to make sure it is magnetic before buying, some are not).You can find simple 9x13 tray for under $2 and then hot glue magnet strips to the markers and crayons.This way they don't always fall all over the car when they are playing with them.
Electronic Devices
Once you have the necessities you want to keep everyone happy and entertained. Besides coloring and the random toy bag another thing that helps greatly with travel are handheld tablets or learning devices. Ipad, kindle, leap pad/leapster these are all things that can be great on road trips. Just remember plenty of batteries and/or their chargers.
If you are looking for more car trip fun you can check out the 50+ road trip ideas from 123homeschool4me.com.
Some of the greatest memories I have about family vacations were the car rides just spending time together. So remember, trips and vacations are about making memories, so make plans to enjoy the entire trip!