WinCU Family & Friends Blog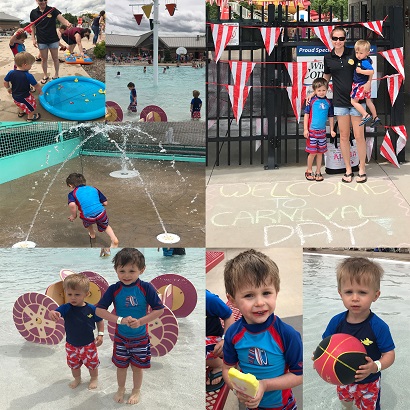 Great Day at Pollock Water Park
Jul 3, 2017, 13:49 PM by Krista Olson
WCCU Sponsors Pollock Water Park Special Events
The Summer heat is here and what better way to soak up the summertime sun then to splash around at a pool or water park! Our local community definitely does not fall short when it comes to outdoor pools including the Neenah Pool, Mead Pool and Erb Pool. However, if you are looking for a "miniature Dells" adventure without the two hour drive then Pollock Community Water Park in Oshkosh has you covered!
The park features water slides with and without tubes, a fun and relaxing "Lazy River" with waterfalls and tipping water buckets to get wet, zero entry/walk-in pool with overhead water sprinklers, sprayers and water buckets, a lap pool with diving boards and a water basketball hoop. The water park also offers an awesome splash pad, a sand play area and even a grass area for sunbathing.
Through out the course of the summer Pollock Water Park holds special events including the recent Carnival day, which the boys and me were able to attend. This was the first time we attended the water park and it definitely will not be the last. After splashing around in the zero entry pool and splash pad they tried their hand at some fun carnival games including ring and bag toss, fishing for ducks and even the dunk tank. They also offered live music and special concessions that day, so we finished up the day there with some Sponge Bob Ice Cream and chocolate milkshakes.
Winnebago Community Credit Union is the 2017 Special Events Major Sponsor. Below you will find list of some of the upcoming events Pollock Water Park will be holding during the summer months:
Family Luau Night: July 13th from 6-8 pm
Featuring games, Karaoke and special concessions!
Ducky Days: July 27th from 2-6pm
Featuring ducky games including: pick a duck, chuck a duck, toss a duck and earn "Ducky Dollars". They will also have Ducky races down the lazy river!
Aqua Fiesta Days: August 10th from 1-4pm
Featuring a Taco Bar, live music, games, prizes and concession specials
Season Pass Holder Appreciation Night: August 19th from 5-8pm
Thank you night for all the season pass holders. Featuring a BBQ, games, prices and special concessions.
All special events are FREE for season pass holders; otherwise normal daily admission rates apply. See the water park brochure for details and rates.
View more general information regarding the Pollock Community Water Park or the coming up events.