WinCU Family & Friends Blog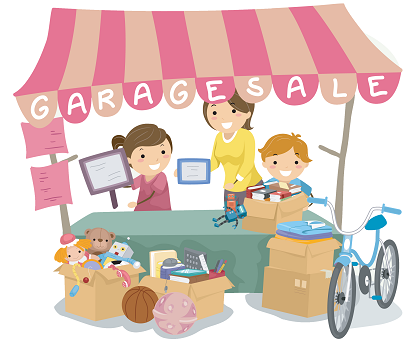 Life Lessons Learned Hosting Garage Sale
May 8, 2017, 13:49 PM by Krista Olson
Spring is here. Or, as the Olson's like to put it…Garage Sale season! I love everything about garage sales; first we get rid of unused items, plus we earn a little extra money AND it's a great opportunity for our kids to learn valuable life lessons.
Here are a couple tips I've learned on how to hold a successful garage sale while also teaching your kids a thing or two in the process.


Finding Items to Sell
While you begin cleaning out the house for items to sell, also have your kids pitch in and clean out their closets, play rooms and toy boxes and determine what things they want to sell.
Explain to them that other kids will enjoy toys they no longer use and they can earn some extra money towards a new toy or other things they might want.
They can also get creative and make items to sell, such as bracelets, potholders, crafts, etc
Or, have them build and set up a lemonade stand and help bake cookies, brownies or popcorn balls


Learning Opportunities
A garage sale can be an academic moment without feeling like learning at all! Some of the things they can learn about include:
Handling money and giving change, not to mention the value of money.Also, they will learn that working hard pays-off; as it takes arduous work to turn a buck.
The art of giving.You can set up a free box for heavily worn items.Explain how other kids may have a lot of fun with a used toy or book that is new to them. Your trash can be another's treasure!Also, donate any garage sale leftovers to Goodwill or your local thrift store to help support your community and give back.
Prepare some start-up conversations with customers about items for sale; this will help develop their social skills.Tell them what they like about items they are selling, or ask customers what things they are looking to buy.
They may also pick up on the art of bargaining and negotiation.Take them to neighboring sales refine their techniques.
Teach them to save some of the money they earned by depositing earnings into a savings account so they buy something they really want in the future.


Tips To Get Kids Involved Before, During and After the Sale
You can have the kids help do some yard clean up before and after the sale.Making the surroundings look nice is only going to help your cause of attracting more shoppers.
Get them involved in setting prices and putting tags on their items
You can add motivation by matching whatever funds they earn
If you have enough items of your own, set aside a "kid's corner" where they can manage the area and sales
They can create, colorful, fun signs to put up as advertisements for the sale and use social media to invite their friends and families to the sale. They can place signs at school or day care, or in community newsletters
Take them to the bank to get change to have on hand for the sale.
Get any baking, cute packaging and pricing done the day before.
Have the kids in charge of playing music during the sale
After the sale is over have them help with taking down all posters and signs and put in the trash or recycle bin; thereby, teaching them about being a responsible citizen.
When it's all over, communicate as a family and share "lessons learned" throughout the entire process. You will all have ideas for how you can do things better the next time around! And please don't forget to have some fun!