WinCU Family & Friends Blog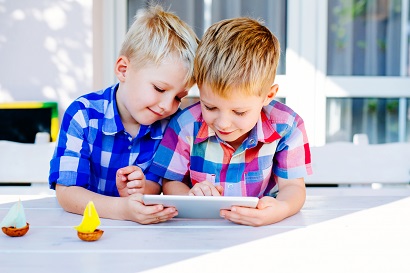 Apps Teach Kids About Money
Apr 14, 2017, 13:49 PM by Krista Olson
Youth Week focuses on getting kids started on the right path
Apps Teach Kids About Money
Youth Week focuses on getting kids started on the right path
April is an important month for personal finance. Not only does it host Credit Union Youth Week, but April is also Financial Literacy Month. Youth Week focuses on children and Financial Literacy Month on adults. With two young boys and mom and dad in our house…we could use a little of both!
My husband and I put effort into teaching the boys the basic concepts of money. But, in their young minds, money still seems to grow on trees. They haven't quite grasped the basic tenant of Money: In order to purchase something, you have to earn money and save up.
There is good news though, we can use the digital world we live in to our advantage. Plenty of good apps and other online tools exist to help kids better visualize the financial world around them; providing parents the tools to teach their kids about money. Most of the apps focus on keeping kids engaged in learning via interactive features or gamification.
Here are three highly rated financial education apps to keep your kids interested in learning about money and how to successfully manage it.
BANKAROO – The Virtual Bank for Kids

Bankaroo is a free app available for iOS, Android, Windows and Amazon platforms. Using the app, kids can create a virtual bank account and manage their allowance and expenses. It offers semi-realistic bank features in a game-like design. Kids can even set up goals and earn fun badges. This is one of the best money apps out there for kids aged 5-14.

PIGGYBOT – Digital Piggy Bank

This free app is a great tool to help your child visualize their allowance and categorize it into different areas such as save, share and spend. The app has some pretty neat features including goal settings where kids can post photos of things they want to save up for. Great for kids ages 4-8. This app is unfortunately only available for iOS devices at this time.

SAVINGS SPREE – Teaching Money Decisions Game Show Style
This iOS only app costs a one-time fee of $5.99 and worth every penny. Savings Spree uses the gaming approach to teach kids how daily lifestyle choices can lead to big savings or big expenses. This is in a game show style format to keep kids interested. Not only does the app teach the value of money basics but can also change their attitudes and behavior towards it. The app was the winner of a Parents' Choice Gold Award. Good for ages 7 and up but younger kids can play with help from parents.
Click Here for More info on Savings Spree!
Do you use apps to teach your children about money and saving? Please share with us below in the comment section! Also be sure to stop in at the Winnebago Community Credit Union Branch near you and to open up a savings account for your kid/s and be entered to win $100 savings deposit through April 28.